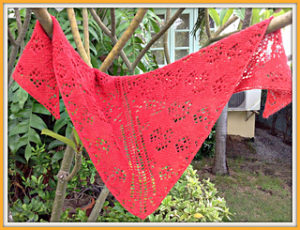 The first time around I knit my Not-Your-Garden-Variety Shawlette I chose a West Yorkshire Spinners fingering-weight yarn (color: cayenne)  I bought on a trip to the U.K.
I wanted to see what the design looked like in a heavier-weight yarn, with a few beads added as an embellishment, and in a color that actually reminded me of a flowering garden.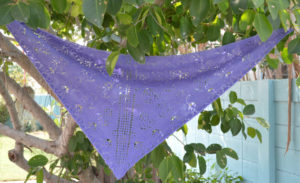 In knitting this variation, I used the same size needles that pattern calls for (US 6/4.0mm), chose a DK-weight yarn (Artesano British Wool; color: bluebell) 3-50g skeins, and incorporated 16-8mm translucent glass beads (color: wheat), to resemble beads of dew on one of the rows of blossoms.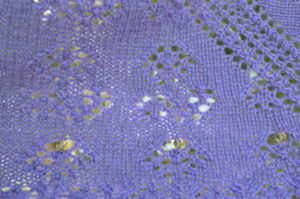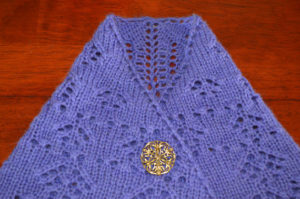 Measurements after blocking: 43 inches (110cm) across the top; 24.5 inches (62cm) from top to end of bottom point.
The pattern is one of mine on Ravelry. You'll find instructions for the variation on that page.
The shawlette is also available for purchase in my Etsy shop.
Thanks for stopping by, and happy knitting!
MikeH