It's so easy to be inspired by Paris. Over the years I've been taken in by the city's landmarks,  the architecture, and the ever-present sense of style.
In particular, I've formed a mental image of how the Seine River links the landmarks, and thought that would be the perfect theme for my newest project.
Parisian Links: des liens étroits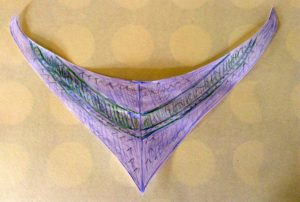 The design is for a top-down, heart-shaped, oversized bandana/shawl. The top and bottom sections will be knit in lace patterns that evoke the architectural similarities of the Eiffel Tower and Louvre Pyramids. The middle area will be a section of lace stitching representing the Seine River and its bridges (with beads interspersed in the borders).  The beads include 3-4mm, 3-sided sterling silver beads and 8mm translucent cathedral crystal beads with gold and blue/green highlights.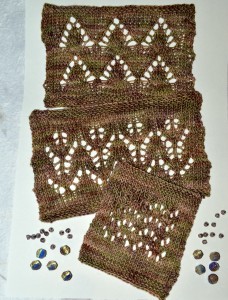 In addition, I'll be inserting a narrow transition area, in the third stitch pattern (in the first color, Emerald, bordered with the second color, Emerald Blue).
The yarn is a luxury Malabrigo Lace Baby Merino, and the design will require 1 skein of Emerald and 1 skein of Emerald Blue. The architectural elements and transition will be knit in Emerald and the river and bridges in Emerald Blue.
Overall dimensions of the finished accessory are anticipated to be approximately 65 inches (165cm) across top; 55 inches (140cm) wide at widest point; 28 inches (70cm) from top edge to bottom point]
Follow this blog for progress on my Paris project.
Happy knitting!
MikeH
http://www.ravelry.com/designers/michael-harrigan