Last week I wrote about incorporating a lace knit edging as you bind off the body of the shawl. Here's another example this week – and a new pattern.
My newest shawl pattern is an asymmetrical shape that features a bottom edge in a contrasting color and a knit-on edge in that contrasting color as well.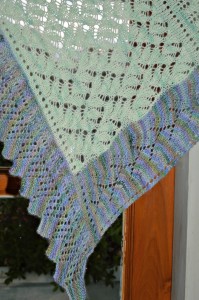 The bottom edge (on the right) is knit as part of the body of the shawl, simply by changing colors on each row; and the knit-on edging (on the left) is worked from the final row of the body.
This shawl was knit with two shades of Malabrigo Lace yarn (100% baby merino), with the body of the shawl in Water Green, and the edge and the border in Indiecita.
About the design:
In Asian landscape paintings, artists typically incorporate mountains or rocks, water, the sky, trees, and greenery, along with a man-made element, such as a bridge, to create an overall image. The result is often abstract, leaving the viewer to explore the landscape the artist created.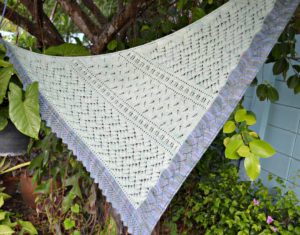 Living in Asia, I come across many painted scrolls from China and other parts of eastern Asia and often have the opportunity to view the scenery that has inspired artists for centuries.
This shawl is my interpretation of an Asian landscape, worked in lace stitch patterns that are meant to evoke hilly terrain, flowing water with the hint of a bridge, tree branches, and abundant foliage.
Intermediate knitting ability with some lace knitting experience is necessary for this pattern.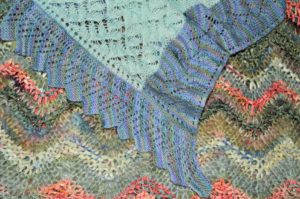 You'll find the pattern on Ravelry. The accessory is available for purchase on Etsy.
Happy Knitting!
MikeH