My newest design is knit with a light fingering-weight yarn in five colors, and is a fantasy vision of a forest landscape, incorporating lace patterns of leaves and other forest foliage.
The shawl is asymmetrical (knit sideways), and progresses from geranium to red currant and then begonia, fairy and finally ecru.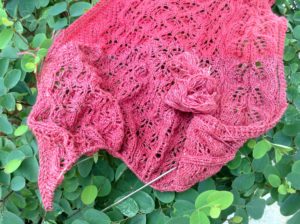 In this photo, you see the first two colors: geranium and red currant.
The accessory requires 2 Coast Ombre Packs (purchased from tangledyarn.co.uk). The yarn is a light fingering weight in 55% merino lambswool and 45% cotton).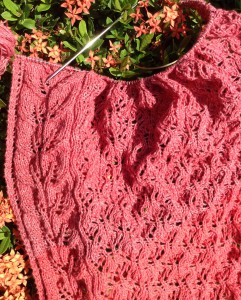 Be sure to come back for a visit to monitor the progress.
Happy Knitting!
MikeH