Patterns available on Ravelry
Accessories available on Etsy
My newest design for a lace knit wrap is still a work in progress, as you can see from the photo.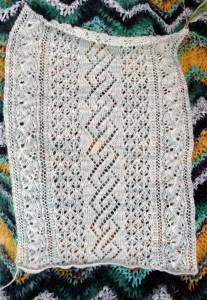 I'm knitting this on US size 2 (2.75mm ) needles with Malabrigo Lace yarn, which is 100 per cent baby merino wool, in a color called Water Green that has subtle tonal changes.
The finished wrap will measures around 13 x 60 inches or 33 x 152.5 cm.
The central scroll stitch panel is surrounded by English mesh lace panels and the edges are traveling vines of knit lace.
Come back for a visit for the pattern and to see the finished accessory – although I've got a Christmas scarf and a custom order in the works before this one will be ready to go.
Happy knitting!
MikeH