Patterns available on Ravelry
Accessories available on Etsy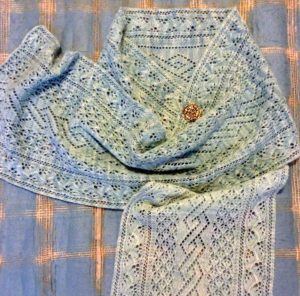 My new lace knit Deco Panel Wrap design is now finished and the pattern is available on Ravelry.
It's taken a while to create this pattern, as it incorporates 3 different lace stitches plus a central lace medallion. Each of the stitch patterns is knit over a different number of rows, and in this case that meant that the basic pattern repeat was 48 rows!
The wrap was knit in a lace-weight hand-dyed yarn with tonal variations throughout.
There is a central scroll stitch panel surrounded by English mesh lace panels, and the edges are traveling vines of knit lace. The central panel, along with the edging stitch patterns, was a repeat of 60 rows!
The wrap was knit on US size 2 (2.75mm ) needles with Malabrigo Lace yarn, which is 100 per cent baby merino wool, in a hand-dyed colorway called Water Green (83). It took most of 2 50-gram skeins or around 900 yards/825 meters to complete.
After blocking the accessory measures approximately 11 x 68 inches (28 x 173 cm).
Note
The instructions for this pattern are written out, row by row. An intermediate level of lace knitting experience would be helpful.
If you decide to try it out, I'll be happy to help if you have any questions.
Happy Knitting!
MikeH