Patterns available on Ravelry
Accessories available on Etsy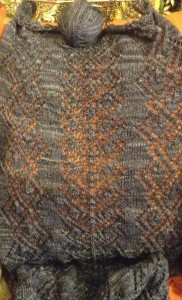 I'm about 3/4 of the way through a new rectangular lace wrap that I'm knitting in a fingering-weight Blue-Faced Leicester wool in a carbon monochrome. Design/pattern in progress and should be ready to go by the end of the week! It'll be a much more attractive pattern after it's blocked (and easier to see).
In other news, I just started The Knitting Guild Association's Master Hand Knitter program. I'm looking forward to critique of my work by the experts and improving my skills as I work my way through the 3 levels. I have set a goal of achieving Master Knitter status by the end of 2017!
The program requires quite a bit of research, and I thought I'd start to share some of the hints, tips, and techniques I come across.
That leads to this new section of the blog that I'm calling…
Did you know…?
Tension in knitting terms quite often refers to gauge, but it also refers to how consistent your stitches appear throughout the knitted piece.
Actually tension relates to the way the yarn feeds from the ball to the needles and subsequently the stitches. Uneven tension can result in  taller, shorter, looser, or tighter stitches in parts of your knitted piece.
I've come across a few tips for improving tension and I want to share the first of these this week (and some other, more specific, tips next week):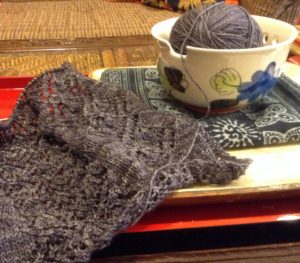 Yarn bowls are a great way to keep tension even as you knit. The bowl pictured above is a re-purposed rice/noodle bowl holding a ball of the fingering-weight yarn I'm using for my current wrap project.
The slot and holes in the bowl are for holding chopsticks, but do just fine with yarn as well. It helps if the bowl is glazed, as the yarn slides more smoothly off the ball and to your needles!
Did you know…? next week will provide tips on
Improving tension in K2P2 ribbing
Improving tension at the beginning and end of rows in stockinette stitch
Until then,
Happy Knitting!
MikeH