Patterns available on Ravelry
Accessories available on Etsy
I recently started work on a custom order for one of my favorite scarf patterns. You can see a photo of the original below, in a dark blue – the name of the design is Garden at Midnight.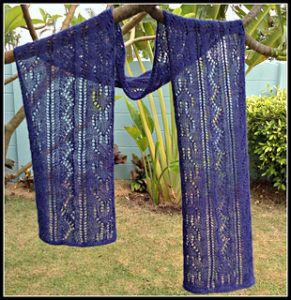 The request, from a customer of mine, was for the scarf to be done in a yarn of the same weight (lace) in a deep gold.  Here's the work in progress: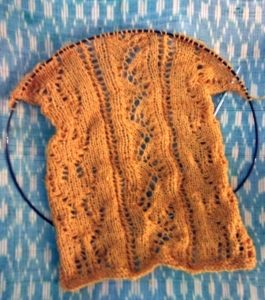 The yarn is a luxurious blend of silk (45%) and merino wool (55%), by Fyberspates. It's called Scrumptious Lace and the color is #502, gold.
If you'd like to give this pattern a try, it's available on my Ravelry page.
If you'd like to custom order a scarf, shawl, or wrap from any of my other patterns (from my Ravelry page), just let me know.
Happy Knitting!
MikeH