Patterns available on Ravelry
Accessories available on Etsy
A couple of weeks ago I posted photos of two of my projects for Level 2 of The Knitting Guild Association's Master Hand Knitting Program.
Here are some photos  of the final project, which is a hand knit vest.
And a photo of the neckline and all my materials ready to ship to the US.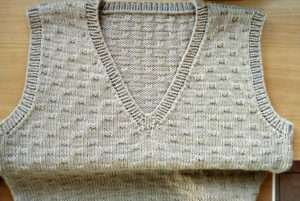 So now I wait to hear the results of the committee's evaluation and get back to my lace knitting.
As a matter of fact, I already have two projects on the needles and I'll share the progress with you next week.
Happy Knitting!
MikeH