Patterns available on Ravelry
Accessories available on Etsy
I'm making some progress on my Boyfriend Bandana project (see previous post).
During a trip to Colombia and Panama recently, I visited a number of local markets and found some pendants or trinkets (los dije in Spanish) that I thought would work as embellishments at the bottom point on some of these accessories.
Obviously there are boyfriends that would not take to this jewelry thing very well, so on an equal number of the variations, they won't appear!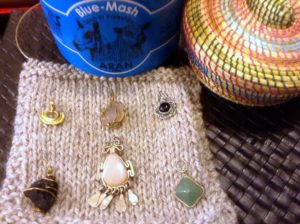 The photo in the previous post is one of two variations on Boyfriend Bandana 1. The photo below shows a work in progress that is the second of two variations for this first pattern.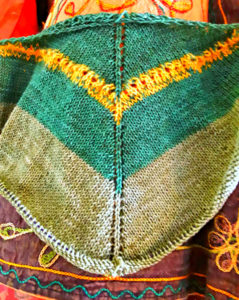 This one will have an embellishment at the bottom point, and it's likely to be the preColombian reproduction in gold-plated brass that you see in the upper left of the first photo above.
Here are a few photos from the trip. It was a wonderful two weeks spent exploring Colombia and visiting Panama City.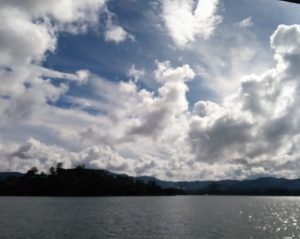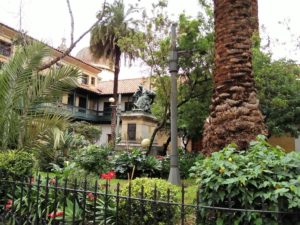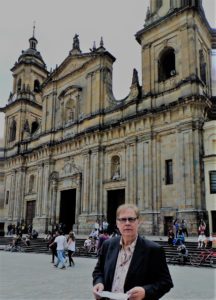 For Boyfriend Bandanas 2, 3, and 4 there will also be two variations of each. In the next one I'll be leaving out the eyelets and lace panel, and introduce a few  stripes in colors that might appeal to the more conservative of the boyfriends out there – but never fear, there will be one variation that boasts some bling.
Boyfriend Bandana 3 is likely to feature a Fair Isle style motif in a band across the accessory – and I'm not sure yet what #4 will bring.
Each set of 2 variations will be available as a pattern, and in the end, all will be available in an e-book.
Keep an eye out on Ravelry and Etsy for the latest offerings!
Happy Knitting – and Happy Holidays,
MikeH