Patterns available on Ravelry
Accessories available on Etsy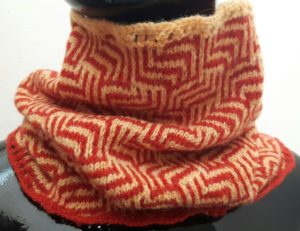 I found this Mosaic Maze stitch as I was swatching a variety of slip-stitch and Mosaic patterns and thought it would be the perfect choice for a cowl.
It is actually quite easy to knit. Only one color is worked for each round and the stitches not worked are slipped. The color changes every other round.
The piece begins and ends with a row of eyelets – with a purl row on each side. The size is 23 inches in circumference and 12 inches in height (58.5×30.5 cm).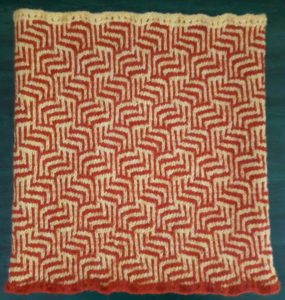 Your favorite fingering weight yarn could be substituted for the Jamieson Spindrift.
The pattern is available on Ravelry:
http://www.ravelry.com/patterns/library/mosaic-maze-cowl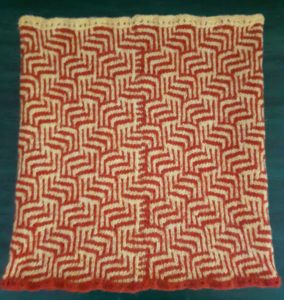 You can see from the back view photo that the design includes 2 stitches in every round that are not part of the actual Mosaic Maze stitch pattern. These stitches create 2 columns of interrupted horizontal lines at the back of the cowl. The reason for including these stitches is to avoid the jog that occurs in changing colors when knitting in the round.
Happy Knitting!
MikeH