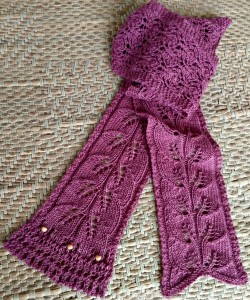 The free pattern for this lace knit scarf is called Skinny Leaves not because the leaves are skinny – and it's not designed for skinny people – it's a skinny scarf that measures 4.5 inches (11.5cm) wide, and is 68.5 inches (174cm) long.
Knit with Araucania Botany Lace, which is actually a light fingering weight yarn, the scarf is lightweight but has enough substance that it's perfect for cool autumn days.
The yarn is a hand-dyed wine color (colorway 2118).
Two basic lace stitch patterns are involved, with some eyelet rows where the wooden beads are placed (3 beads), and a knit-on edging.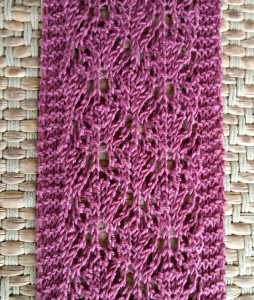 You'll need some lace knitting experience for this, but it's a good practice piece if you'd like to improve your lace knitting skills, knit-on edging skills, and bead placement skills!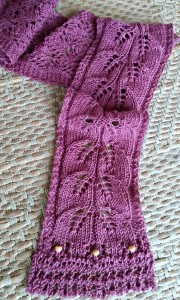 Download the free pattern from Ravelry, or the purchase the scarf on Etsy.
Happy Knitting!
MikeH