Patterns available on Ravelry
Accessories available on Etsy
I've just completed a couple of new designs in anticipation of spring – although it's several months away.  There must be some knitters out there that don't like winter!
The first is called In Due Time, a rectangular lace knit wrap –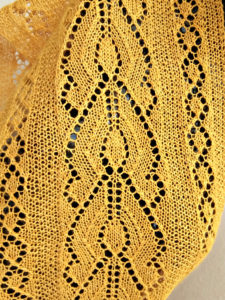 When I was young (many years ago) I was always impatient for spring to arrive – starting in November, when the leaves had finally all fallen off the trees. I was also told that spring would come in due time – and hence the name of this lace knit rectangular wrap design.
The pattern features buds waiting to open surrounded by seed stitch, all indicating the potential of that wonderful season to come – In Due Time!
The yarn I used for this accessory is a blend of baby alpaca, linen, and silk. Although it's no longer available, any light fingering weight yarn would be suitable, but I do have a preference for blends that contain linen and/or silk.
The pattern includes written instructions and a stitch pattern chart.
Measurements after blocking:
12×61 in (30.5x155cm)
The pattern is available in my Ravelry store:
http://www.ravelry.com/patterns/library/in-due-time
The accessory is available for purchase in my Etsy shop:
https://www.etsy.com/…/…/lace-knit-rectangular-wrap-in-baby…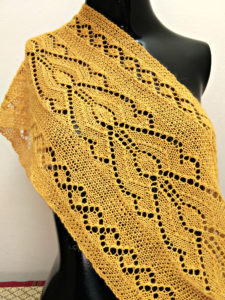 The second of the two patterns is a tribute to my favorite spring flower, and if you come back next week you'll get to see what that is.
Happy Knitting!
MikeH