Patterns available on Ravelry
Accessories available on Etsy
I've been learning more about Fair Isle knitting recently and wanted to  try a pattern that used this color-stranded knitting technique before embarking on a larger project for my Master Hand Knitting course.
I found a group on Facebook that offered a paid pattern by an expert in the technique, with proceeds going to support the museum on Fair Isle.
It's a closed group, but if you're interested in joining a knit-a-long and meet knitters from around the world, it's worth going to the site and asking to be added as a member:
The Fair Isle Fisherman's Kep Page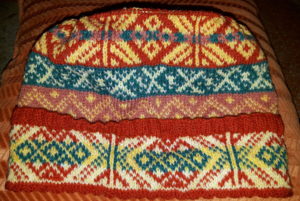 The photo above shows my progress on the kep (cap) – one more small pattern repeat and I'll be ready to start the decreases, add a tassel and then block the cap.
I hope to wear it when I visit Fair Isle in July.  It's not really suitable for the climate here in Thailand.
Happy Knitting!
MikeH