Patterns available on Ravelry
Accessories available on Etsy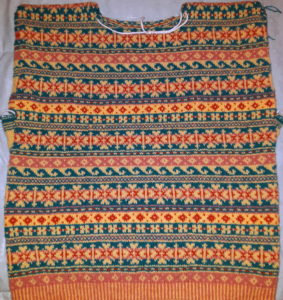 I've been bitten by the Fair Isle bug and am designing a man's traditional Fair Isle patterned gansey. As you can see this is a work in progress!
This design is for The Knitting Guild Association Master Hand Knitter Program.
I still need to pick-up stitches for the sleeves , cut the steeks at the armholes, finish the gussets, knit the sleeves, and add the neckline trim. I'm taking a vacation first though!
As I work through this garment I'm preparing a pattern with charts that I'll make available when it's completed and reviewed. This is a man's size large and knit with Jamiesons of Shetland Spindrift wool.
Happy Knitting!
MikeH