Patterns available on Ravelry
Accessories available on Etsy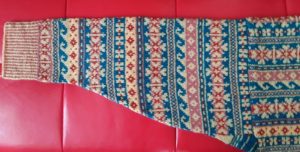 Right sleeve done! This is the progress to date on my traditional Fair Isle-patterned gansey.
I'm posting this to keep myself motivated – and honest. I'm quite pleased overall with the result but frustrated with how long it's taking.
I can't believe that I still have another sleeve to do!
Hopefully I'll be able to show the completed garment soon.
Happy Knitting!
MikeH