Patterns available on Ravelry
Accessories available on Etsy
I just finished knitting this all-over Fair Isle-patterned gansey. It was designed following a traditional shape I found in Michael Pearson's Traditional Knitting and some patterns I found in A Shetlander's Fair Isle Graph Book in Colour.
The first photo is on its own; the second is the gansey worn by the recipient; and the third is the piece of Asian embroidery that inspired the color palette.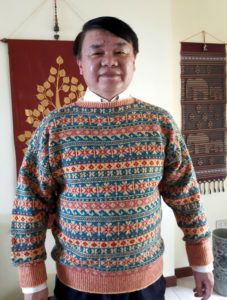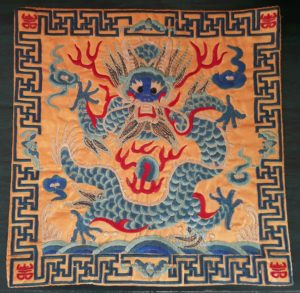 The finished measurements:
Chest – 45in (114.3cm)
Length – 25.75in (65.4cm)
I'm working up the pattern for a man's size L (US).
This is one of the final two projects for my Master Hand Knitting Program of The Knitting Guild Association.
The other project is a traditional cabled Aran hat. I'll be posting some photos of that project soon.
Happy Knitting!
MikeH