Patterns available on Ravelry
Accessories available on Etsy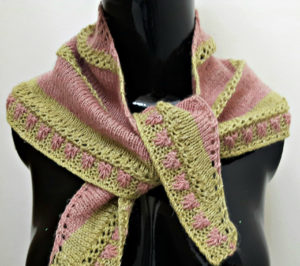 This bandana-style scarf is basically a triangle knit from the top down, alternating stripes of color with bands of an eyelet Roman Stripes pattern and a final edge that incorporates a Fireflowers slipped stitch pattern.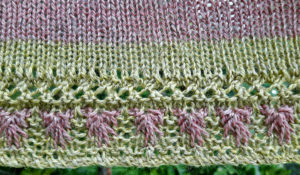 It's perfect as a summer evening wrap – or works equally as well as an after-beach cover-up!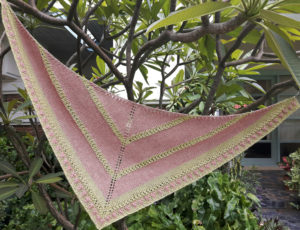 The yarn I used in the sample is Blacker Yarns Lyonesse 4-ply that's a blend of linen and Corriedale wool. It used most of 1 ball of Tourmaline and 1 ball of Citrine. The yarn produces a crisp fabric with excellent stitch definition.
Raspberries and Lime – because there's a refreshing and fruity feel about this combination of colors and stitch patterns. It's sure to add a welcome and eye-catching touch to your neckline at any time of the year!
Measurements: 41×15.5 in (104×39.4 cm)
Pattern available on Ravelry and the scarf itself is available on Etsy.
Happy Knitting!
MikeH