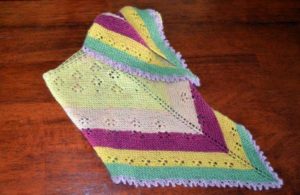 This bandana is a fun knit, watching the color bands appear with the yarn I chose for the project. It's a variation on my Buds and Flowers Shawlette pattern.
I knit this accessory using 1 50-gram ball of La Doro 2-ply, lace weight, 100% superwash wool yarn (300 meters/328 yards) – hand-dyed (colorway 6). You could easily dip into your stash and pick a few colors you'd like to combine.
The bandana measures 40 inches (101.5 cm) across the top; 15 inches (38 cm) from top midline to tip of bottom point.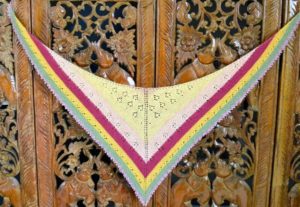 I knit the top-down bandana with 2.75mm needles, knitting from the outside of the ball: the colors develop as you knit. I did make sure that the new color began at the beginning of a row (with the right side facing me) and this meant cutting the yarn a few times.
Adjusting the pattern to make this bandana is quite straightforward. Continue according to the pattern through Row 107, and knit Row 108 as a normal wrong-side row.
Then,
Row 109: (K1, YO) twice; K158, YO, K1, YO, K158, (YO, K1) twice (327 stitches)
Rows 111-119 following the formula for Row 109, substituting the number of K stitches shown for each of the rows:
Row 111: K161 (333 stitches)
Row 113: K164 (339)
Row 115: K167 (345)
Row 117: K170 (351)
Row 119: K173 (357)
Row 120 same as 108
The rose color then appears as if by magic, and it's time to BO using a picot bind off technique.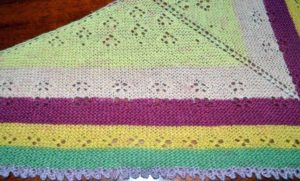 So, now if you have this pattern, there are 3 accessories you can knit  with it!
The colorful bandana is also available for purchase in my Etsy shop.
Happy knitting!
MikeH