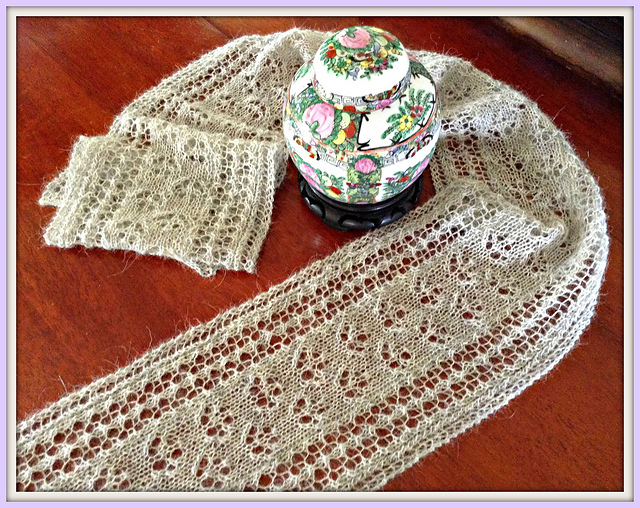 Unbelievably light and soft, this Blossoms and Vines Lace Scarf was designed to be knit with lace-weight alpaca yarn on US 2-1/2 (3mm) needles.
The amount of yard required is 275-290 yards (251-265 m) for a finished accessory that measures around 6.5 x 55 inches (16.5 x 140cm).
This is the second of two patterns I created that were inspired by traditional English gardens I was fortunate enough to encounter on a trip to the U.K. earlier this year. The design is based on my impressions of trellised vines and a multitude of blossoms and is meant to have a vintage feel.
The pattern is quite straightforward and can be knit by anyone with a bit of lace knitting experience.
If you have limited experience with lace knitting, you might want to practice a few of the rows from this scarf pattern to improve your technique before taking on the whole pattern.
The following abbreviations are used in the instructions. If you don't understand how to perform the actions after reading the descriptions, try searching on YouTube for relevant videos.
Abbreviations:
K2tog (knit 2 stitches together from the left needle – to decrease 1 stitch)
SKP (slip 1 stitch, knit the next stitch on the left needle, and pass the slipped stitch over the knit stitch – to decrease 1 stitch)
SK2P (slip 1 stitch as if to knit, knit the next 2 stitches together, and pass the slipped stitch over the 2 stitches that were knit together – to decrease 2 stitches)
YO (yarn over, to increase 1 stitch)
You might want to try knitting the pattern rows seen below with larger needles and heavier yarn, to make it easier to see what you're doing as you practice. [Note that the actual pattern will emerge after you've blocked the finished scarf. I'll talk about blocking lace knit items in next week's blog.]
Repeat these four rows as many times as you'd like until you're comfortable with the various stitches and satisfied with the result. These will not produce the full 12-row pattern seen in the scarf, and are meant for practice only.
Cast on 39 stitches and knit across all stitches for 4 rows
Then:
Row 1: K2, YO, SKP, P1, K2tog, YO, K3, YO, SKP, P1, K7, K2tog, YO, K1, YO, SKP, K1, P1, K2tog, YO, K3, YO, SKP, P1, K2tog, YO, K2
Row 2: K2, P2, K1, P7, K1, P13, K1, P7, K1, P2, K2
Row 3: K2, YO, SKP, P1, K2, YO, SK2P, YO, K2, P1, K6, K2tog, YO, K3, YO, SKP, P1, K2, YO, SK2P, YO, K2, P1, K2tog, YO, K2
Row 4: Repeat Row 6
Now it's time to knit the scarf! You can find the pattern on Craftsy or Ravelry for USD 2.25.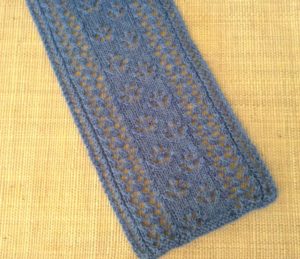 Let me know if you need any help.
See you next week,
MikeH