This top-down triangular knit lace shawl incorporates a few of the ideas that I've written about over the last few weeks.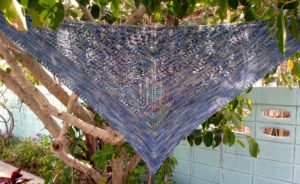 You'll find a combination of visible and invisible center spine increases and a pattern based on a particular yarn – in this case the colors in particular.
The colors in this yarn took me back a few decades to Janis Joplin and her Kozmic Blues. No serene night sky here, but this accessory will keep you warm on a cool starry night!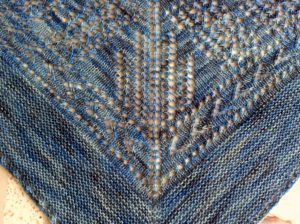 I hand knit this accessory from my original design, using Araucania Botany Lace 100% extra-fine merino yarn (color: 1795, blues), using nearly all of a 100g skein.
The top-down triangular shawl measures 49 x 20 inches (124.5 x 51 cm). This yarn is such a delight to work with, and I'm so glad I bought a few other colorways for upcoming projects.
While the yarn for Cosmic Blues is called a lace yarn, it is a bit more substantial than traditional lace and creates both a fabric with body and stitches that are clearly defined.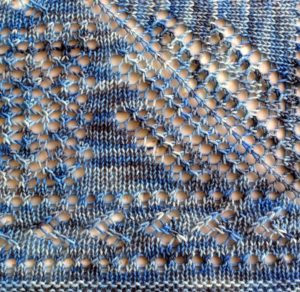 Note that the bottom section of the shawl is knit in rows of garter, with a more invisible type of increase along the center spine.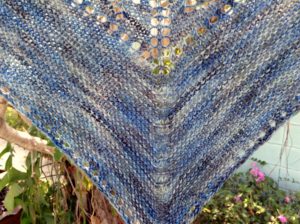 If you have a moderate amount of lace knitting experience you should find this an interesting knitting project.
Let me know if you have any questions, comments or suggestions.
The shawl is available for purchase on Etsy; and the pattern (written instructions) is available on Ravelry.
Happy Knitting!
MikeH