I wanted to show you another variation on a pattern this week. This time, a casual bandana-style lace knit scarf becomes a feminine shawlette in a lovely pastel shade, enhanced by jadeite beads.


The changes to the basic Heart Shaped Reversible Buds and Flowers Shawlette pattern included a change in yarn color, an increase in the size of the knitting needles, and the addition of beads across one pattern row.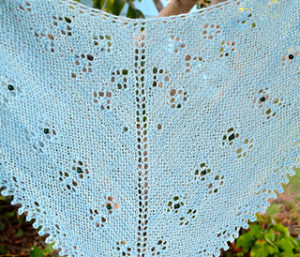 I used larger sized needles than the pattern calls for: 3.75mm instead of 3.5mm (US 5 instead of US 4). I knit shawlette with the same weight yarn, but changed to Araucania Ranco, hand-dyed in aqua shades, using a bit less than 340 yards/310 meters – less than 1-100g skein.
A final touch was the addition of 18-6mm dark green jadeite beads. I used the crochet hook method to insert a single bead in the middle of each flower across the width of the shawlette.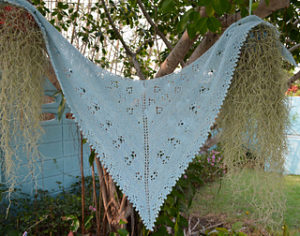 Dimensions after blocking:
21 inches (53.5cm) from the center of the top to the tip of the bottom point
47 inches (119.5cm) across, at the widest point
51 inches (129.5) measured across the top edge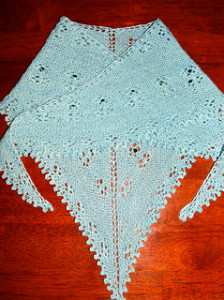 The pattern is one of mine on Ravelry. You'll find instructions for the variation on that page.
If you like, you can buy this accessory from my Etsy shop.
Happy knitting!
MikeH