My original design, Thailand Memories Knit Lace Scarf is one of my favorites. It features temple roofs, unopened lotus buds, and the leaves of the sacred Bodhi tree, which are all elements found in the country's Buddhist temples.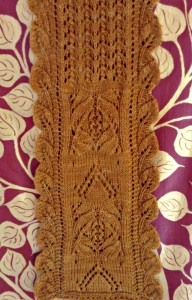 Thailand's natural environment, iconic images, and architecture inspire some of my designs, as you can see in the temple roofs, elephants, leaves, and blossoms in the patterns.
I like experimenting with stitch patterns and creating designs that incorporate images from my travels also. Lace knitting in particular interests me and in my scarf and shawl patterns you'll find fall colors from the US, temple roofs from Asia, camels and elephants from Morocco, and flowers and garden images from England.
Working from memory, photos, graphics, and actual objects, I translate what I visualize onto graph paper in lace stitch patterns. For some reason, although I create my designs with charts, the instructions for all of my published designs are written. Maybe I'll make the transition to charted patterns in the near future!
For the Thailand Memories pattern I wanted to integrate the leaf edgings into the overall pattern of temple roofs and lotus buds, so that they were knitted along with the body to the scarf, rather than added on later. This added some complexity to the pattern, but a satisfying result.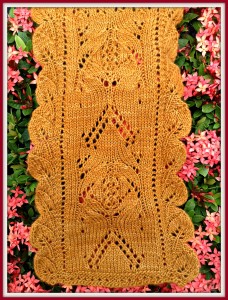 The yarn for this scarf project is Manos Silk Fino (a blend of fine merino wool and silk) in the color Topaz, which is similar to the color of the robes worn by many monks. You'll see a range of tones in the piece as the yarn is both hand-spun and hand-dyed.
This scarf is knit in 2 pieces that are grafted by using a simple Kitchener garter graft. I used most of 2 50-gram skeins knitting the scarf with 3.5mm knitting needles (US 4).
When completed the Thailand Memories scarf measures 8 x 55 inches (20 x 140cm).
If you have some previous lace knitting experience you should enjoy knitting this pattern, and I will be happy to help with any questions you might have.
The Thailand Memories Knit Lace Scarf pattern is available on Craftsy and Ravelry and the scarf itself can be purchased on Etsy.
Happy New Year!
MikeH