I'm pleased to say that my patterns are now available on the LoveKnitting site – 29 patterns and 1 ebook!
In addition to the reasonable prices of my patterns (and some free), LoveKnitting is offering 10% off yarn when you buy any indie designer pattern through the end of May. Just a few days left, so check it out now!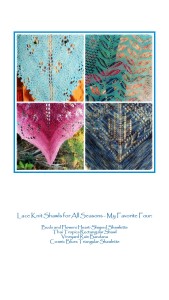 I'm also proud to announce the release of my first ebook collection of patterns: Four of My Favorites: Lace Knit Shawls for All Seasons
You save 25% percent on the total price of the individual patterns when you purchase the ebook.
My patterns and the ebook are available on Ravelry and Craftsy as well, as are my original hand knit (by me) accessories on Etsy.
Happy Knitting!
MikeH