Patterns available on Ravelry
Accessories available on Etsy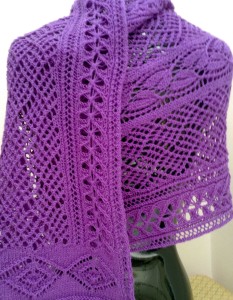 Look past the cold bleak days of winter with this design that evokes spring and a resurgence of activity in the garden.
This rectangular-shaped wrap features a central panel of a dayflower stitch pattern surrounded by mermaid mesh lace and running edges of a honeybee pattern.
At one end of the shawl you'll find a final section of Shetland lace diamonds as a bit of a surprise.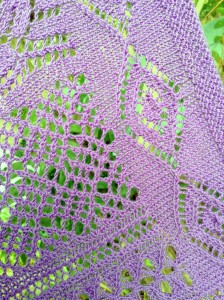 This was knit in 100 percent merino wool, in purple. Note that the first image that appears is the truest representation of the color.
The full-sized wrap measures 68in long x 20 in wide (172 x 50 cm).
Buy the accessory on Etsy!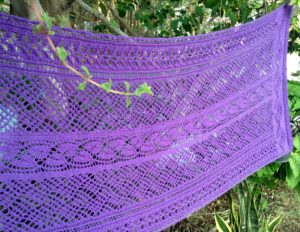 I used just under 2-1/2 skeins of Cherry Tree Hill Supersock solids (merino) in purple, or 1,050 yards/960 meters, to knit a wrap that measures 68in long x 20 in wide (172 x 50 cm).
The shawl can easily be made shorter or longer by the number of pattern repeats you knit (with US4 (3.5mm) needles, 1 pattern repeat yielded approximately 7 inches.
The instructions are written out, row by row. You'll need 4 stitch markers, and although I seldom use them, you'll want to use with this pattern.
Buy the pattern on Ravelry.
Happy Knitting!
MikeH