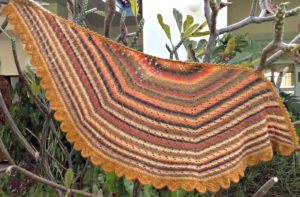 If you'd like to create a striped knit shawl but don't want the fuss of changing yarns every couple of rows, you can achieve a similar effect with the right choice in self-striping yarn.
For the body of the shawlette pictured above I used Lang Mille Colori Baby merino (4-ply, fingering weight). When you choose a self-striping yarn it's important to see a photo or sample of a swatch or item that's been knit using the yarn, to ensure that you're happy with the look.
This colorful Leaf Edged Half Circle Eyelet Shawl is knit from the top down from a pattern that forms a half circle. The body is knit in one piece in a simple paired eyelet stitch, and then the lacy leaf border is knit using the live stitches at the bottom edge of the shawl. The top edge is finished by picking up and knitting stitches across the top, finishing with a picot bind-off.
The simple eyelet lace stitch allows the color to be the focus of the shawlette, and the top and bottom edging in a complementary solid color provide a bit of elegance and interest.
I used nearly 2 full skeins of the Lang Mille Colori Baby merino yarn for the body (415 yards/380 meters) and less than half of the Manos Fino silk/wool blend (approximately 100 yards/90 meters) for the edgings. Both are fingering weight (4-ply) yarns and were knit with US 4 (3.5mm) needles.
The overall dimensions after blocking: 42×20.5 inches (107×52 cm)
An intermediate level knitter will find this pattern enjoyable. The edgings may prove to be a bit challenging for a beginner.
If you decide to use a different brand of yarn for the body, remember to check the self-striping pattern to ensure you'll be happy with the result!
Colorways:
Lang Mille Colori Baby: 845.0039
Manos Fino: Topaz
The pattern is available for purchase on Ravelry and Craftsy. I hope you try it out and enjoy knitting the shawl as much as I enjoyed designing it.
Happy New Year!
MikeH