I enjoy traveling and often pick up the work of local artisans. After doing a fair amount of lace knitting earlier in the year, I wanted to knit a scarf/shawl/wrap based on a painted cloth I found in South Africa several years ago.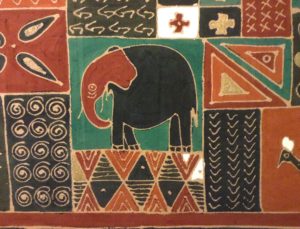 Tribal Traces African Sampler Scarf/Shawl was my first design incorporating eyelet lace stitches, and has so far been the most popular.
I have knitted the pattern in both laceweight (2-ply) and fingering weight (4-ply) wool. The scarf pictured was done with 2-ply yarn on 3.25mm needles and measures 25x160cm (10×63 inches).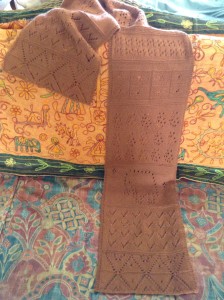 This one, which I think is a better representation of the actual painted cloth, was knit with 4-ply wool on 3.5mm needles, and measures 35x230cm (14×90 inches).
I used 1 80-gram skein of 2-ply superwash wool for the lace-weight wrap, with a fair amount left over. For the fingering weight shawl I used 2 100-gram skeins, with just a bit left over.
Two identical panels are knit and then grafted together using the Kitchener stitch. There are 6 sections to each panel.
I'd enjoy seeing your results if you decide to knit Tribal Traces, perhaps with a different type of yarn.
MikeH