If you're looking for an easy pattern for a scarf as a Christmas gift, look no further!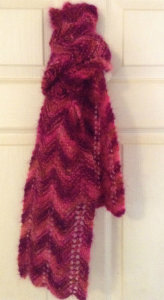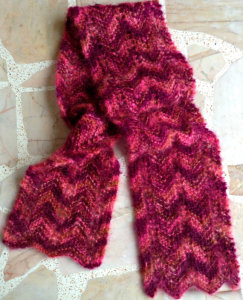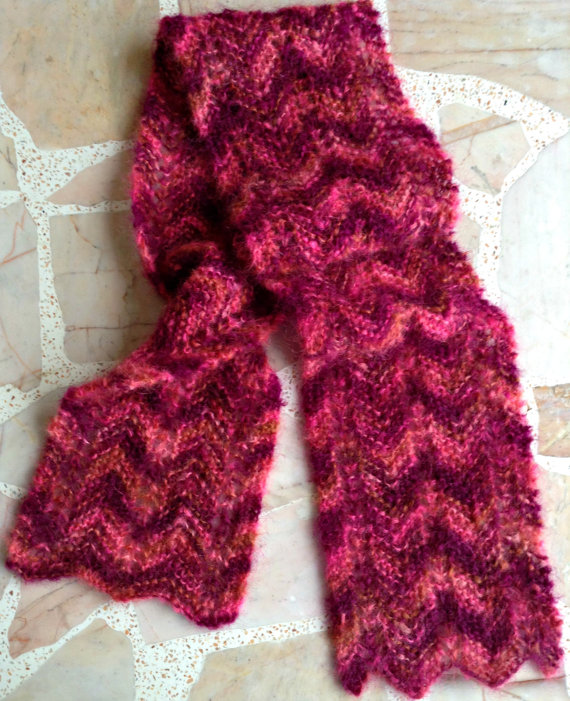 I had 100 grams of Colinette Hand Dyed Mohair sitting around for a while and decided I'd make a simple scarf, so I did a reversible garter zigzag design and thought I'd post the 2-row pattern for the scarf:
What you'll need:
100 grams (193 yards/175 meters) Colinette Hand Dyed Mohair (78% mohair, 13% wool, 9% nylon)
Weight: Aran
Color: Tapis (this colorway has been discontinued by the supplier, but it's often available at online stores and eBay)
6mm (US size 10)
Note: You can use any yarn you like, but your final dimensions may differ from my result.
CO 33 stitches
Row 1: (K4, YO, K1, YO, K4, SK2P) twice; K4, YO, K1, YO, K4 (35 stitches on needle)
Row 2: K2togTBL, K31, K2tog (33 stitches on needle)
Repeat Rows 1 and 2 until you've nearly run out of yarn.
BO loosely
If you'd prefer a pattern that you can download, it's available for free in my Ravelry shop.
Abbreviations:
CO (cast on)
K (knit)
K2tog (knit 2 stitches together from the left needle – to decrease 1 stitch)
SK2P (slip 1 stitch as if to knit, knit the next 2 stitches together, and pass the slipped stitch over the 2 stitches that were knit together – to decrease 2 stitches)
K2togTBL (TBL means through the back loop, so when you knit these 2 stitches together, instead of going in from the front side to knit 2 together, you go in from the back of the needle (through the back loop of both at the same time) and then knit – to decrease 1 stitch)
YO (yarn over – to increase 1 stitch)
BO (bind off)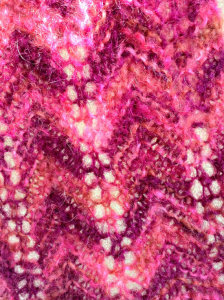 The finished size is around 7-1/2×60 inches (19×153 cm). I'm sure you could add several more inches with blocking.
If you like the scarf and don't have time to knit, you can buy it from my Etsy shop.
Happy knitting,
Mike H