Patterns available on Ravelry
Accessories available on Etsy
When I visited the Shetland Islands this past summer I went as far north as possible and stopped at the Unst Heritage Centre (on the island of Unst) where I learned a bit about traditional Shetland lace stitch patterns.
The scarf pictured is from one of the Unst heritage patterns. I knit it by hand with Shetland Supreme 1-ply, natural, undyed yarn from Jamieson & Smith, on US 00 needles. Size 8×48 inches (20×120 cm).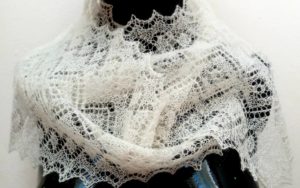 For more information about the Unst Heritage Centre and Shetland Lace, visit:
http://www.unstheritage.com/web/shop/unst-heritage-lace/
Happy Knitting!
MikeH